MIDDLETON | Wisconsin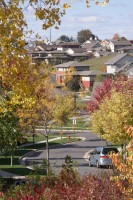 With an outstanding quality of life, the "Good Neighbor City" is a dynamic hub of commercial activity, recreation, entertainment, dining/night life and environmental treasures on the western edge of Madison, the state capital of Wisconsin. Unlike other cities of its size (approx. 17,500 population), Middleton features the amenities and activity of much larger cities while maintaining its own unique small town charm with friendly and spirited people.
Living in Middleton
The quality of life in Middleton—often called the Good Neighbor City—has been nationally recognized by Money® Magazine as "The 100 Best Places to Live" in the US. A retirement center and an active Senior Center provides options for the senior members of our community. The Senior Center provides numerous opportunities and daily activities for older adults to enjoy. The Middleton Youth Center, developed by the YMCA, is a popular spot for our young people.
During the summer months, a weekly Farmer's Market provides an opportunity to purchase fresh vegetables, fruits and flowers. Middleton's Aquatic Center, centrally located near the High School, offers a variety of swimming and water activities throughout the summer months. Baseball, softball and soccer fields are plentiful in Middleton and league contests are a regular pastime.
Middleton's school system excels with students continually exceeding state and national averages in ACT, SAT and state tests. With the University of Wisconsin-Madison, Edgewood College and Madison Area Technical College nearby, Middleton is truly focused on education. High school students can conveniently enroll in college classes and adults can strengthen their job-related skills with college classes or offerings from the University of Wisconsin-Extension.
Good neighbors are close by with Middleton's nearest neighbor being the state's Capitol City of Madison. This cosmopolitan city adjoins Middleton to the east and south. Madison is also home to the University of Wisconsin-Madison, a world-class teaching and research campus. The University of Wisconsin-Madison offers Big Ten sporting events and many cultural activities featuring artists and entertainers from around the world.
Many housing and neighborhood styles are available in Middleton. Choices vary from the traditional neighborhood development, to mixed-use spaces with condos, townhouses and single-family homes, to standard residential development. Inspired by Frank Lloyd Wright and images of urban neighborhoods, Middleton Hills is a uniquely planned community providing the closeness of homes, workplaces and shops that once was common in large cities.